Connect with us: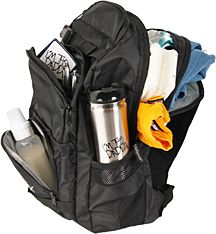 The Daddy Diaper Pack is the ultimate pack for Dads with large straps and clips to secure it , and to take it off quickly and smoothly. The side pockets are handy for water bottles, baby bottles, and sippy cups. There's a big pouch for diapers, wipes, and a change of clothing (and naturally a smaller one for the dirty stuff). The front organizer pocket is designed for the necessities like keys, money, cell phone, pacifier, and smaller toys. The insulated cooler pouch is ideal for goodies. The Daddy Diaper Pack by DaddyScrubs is truly the ultimate go-to diaper bag for fathers!
Daddy Scrubs is generously giving one winner a Daddy Diaper Pack valued at $69.95
Rjay's Freebies does not claim to or imply to be directly affiliated with the manufacturer(s), brand(s), company(s) or retailer(s) of the products listed on this web site, and in no way claim to represent or own their trademarks, logos, marketing materials, or products. None of the companies that produce, manufacture, promote, or distribute the products listed on this website own, endorse, or promote Rjaysfreebies.com. Please note that we do not send out any samples whatsoever, we only provide the links to the manufacturers and advertisers websites. We have absolutely no control over the distribution or shipping of any samples that any advertiser or manufacturer offers.